Throughout childhood and adolescence, it's normal for your child to experience a wide range of emotions. However, if the negative feelings last longer than a normal "bad mood" and begin to impact your child's ability to function normally, they could be experiencing depression. According to the Centers for Disease Control and Prevention, 1.9 million children ages 3-17 years old have been diagnosed with depression. Having additional disorders is most common in children with depression; about 3 in 4 children diagnosed with depression also have anxiety.
Holiday Blues
Just like adults, children can also exhibit signs of stress or depression around the holidays. On one hand, children are like sponges and it could just be them absorbing the stress and anxiety from those around them. On the other hand, however, some children are directly affected by the holiday stressors themselves. Here are common stressors many children face around the holidays:
The child may feel anxious about attending a different daycare or childcare during the holiday break because it's different from their normal routine.

If parents are unable to afford presents this year, the child may feel sad and experience social anxiety when they go back to school and the other kids are showing off their new toys and clothes.

The child could be deeply affected by the loss of a loved one earlier in the year, and this may be their first holiday without them.

If they don't typically see their extended family, they may feel anxious about socializing with people they don't know or don't get along with.
5 Warning Signs For Childhood Depression
Mental disorders in children can have a significant impact on the way they learn, behave, or handle their emotions, which causes distress and a multitude of problems they have to deal with regularly. Sometimes it can be difficult for parents to determine if their child's behaviors or emotions are just a regular part of growing up or if it's something more.
Here are 5 distinct warning signs that could indicate depression:
Isolation or withdrawal from family and friends

Lack of interest or motivation with school, sports, or other activities

Irritable behavior or everchanging moods (extreme highs to extreme lows)

Low self-esteem or feelings of hopelessness (thoughts of suicide in extreme situations)

Constant fatigue, aches, or sick feeling
Let Them Know They Are Not Alone
Whether your child is open about their feelings to you or more closed off, it's important to know they are not alone in experiencing these emotions. Baltimore Ravens tight end Hayden Hurst has been open about the anxiety and depression he's faced throughout his adolescence into early adulthood and recently visited the Youth Crisis Center to share his story with the children there to let them know they are not alone. Hurst was a phenomenal baseball player, but one day, he began experiencing the "yips" a condition that would cause hands to sweat and tremor uncontrollably, and he lost the ability to pitch due to his depression and anxiety. Hurst received the help he needed and found a new passion for football and was later drafted into the NFL.
"I still battle with depression and anxiety today. It's part of the makeup of who I am," said Hurst. "I want to tell my story. I want it to be out there. I don't care if it makes me vulnerable. I want people to be able to relate to it so they can change the course of their life."
How You Can Help
If you think your child or family could benefit from speaking with a counselor, the Youth Crisis Center provides short term crisis care, mental health counseling, skills-based group training, and transitional living services program for children, teens, young adults, and their families in need. To learn more about the programs we offer, click here or call (904) 725-6662.
If you would like to get involved, join us on February 24th for the first Hayden Hurst Family Foundation Golf Tournament benefitting the Youth Crisis Center. Click here to learn more.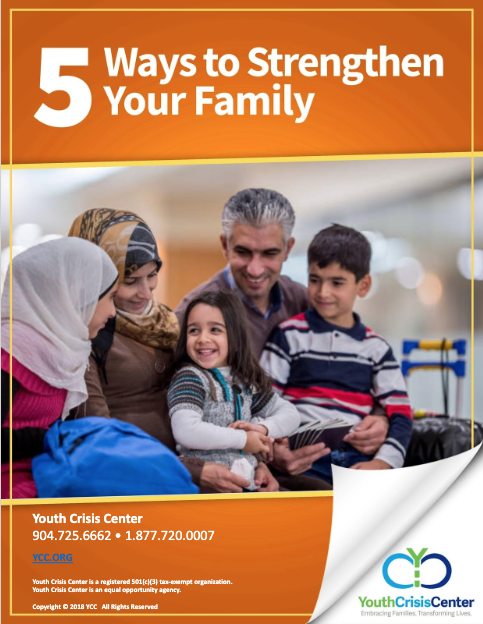 5 Ways to Strengthen Your Family