Everyone has felt stressed out at one time or another. Whether it's feeling overwhelmed at work, financial pressures, family drama or schoolwork overload, we've all been faced with that sense of "It's just too much to handle." Most of us have learned to take a breath, have a good cry, take it out at the gym, or blow off steam with friends. We learn these self-soothing techniques through time and experience. It's important to know how to handle the impact of stress. Its effects can be unhealthy and dangerous. Studies show that girls are feeling the dangerous effects of stress at a younger age than ever before.
Shifting the Focus
Psychologist and CBS News contributor Lisa Damour addresses the pressures that young girls are facing from today's society today in her book, "Under Pressure: Confronting the Epidemic of Stress and Anxiety in Girls." Damour explains the unrealistic picture the media paints of what girls should aspire to be. This often causes stress and anxiety because the girls don't feel like they will ever live up to those standards. Damour believes the battle against the messages of beauty the media is sending to young girls starts with their parents. If parents make a point to shift the focus to the girls' creativity, cleverness, or how interesting they are, it'll send a different message to their daughter.
"There are unique pressures that girls face," said Damour. "They are achieving unbelievable things these days, and yet, they know they are still judged heavily on how they look." By focusing on the non-superficial aspects, parents can build up confidence in their daughters based on her abilities and intelligence, not on how she looks. This can help diminish the stress and anxiety that society has fostered in young girls.
It's Part of the Growing Process
Damour makes a call to action for young girls experiencing stress and anxiety, asking them to make it a part of their growing process. The feelings they experience aren't setbacks, but simply opportunities to gain insight and knowledge about themselves. She encourages parents to explain to their children that stress and anxiety is a healthy way of showing that they need to pay attention to challenges in their life, rather than a problem that needs to be eliminated. 
Signs & Potential Causes Your Child Is Anxious or Stressed
Anxiety and stress levels have risen among young people overall, but studies show that it has skyrocketed in young girls. Teens' stress levels far exceed what doctors consider healthy, and they top the average reported stress levels in adults. Jessica Beal, Youth Crisis Center Family Link Therapist, says that most of the children she works with have these common stressors:
Pressure to perform well in school
Feeling different from their peers
Uncertainty about the future
Chaotic home life
Developing a personal awareness of what triggers stress and anxiety is key for youth to learn how to cope with those triggers. But, how do you know if your child is experiencing stress? With hectic schedules and long work hours, the warning signs of stress or anxiety in your child can often go unnoticed. Here are a few common indicators of stress in children that Beal observes:
Stomach aches and headaches
Shortness of breath or difficulty breathing
Agitation or "shutting down"
Non-stop fidgeting
Racing thoughts or an inability to focus
Developing a Support Network Is Key
"No matter what age, a good support network can make a big difference in how secure someone feels in their ability to cope with stress and anxiety," says Beal. "Children in particular are a lot more confident in themselves, and their decision making, when they know they have people in their corner to root them on."
The first step to dealing with anxiety is acknowledging that you are not alone. You don't have to struggle in silence. While working with families in the Family Link program, Beal helps each family member develop a support network. Whether it's school staff members, extended family members or friends, having someone to reach out to when help is needed can make all the difference.
The Family Link program provides professional and compassionate short-term, outpatient counseling services to families with children ages 6-17 who are experiencing concerns that could disrupt the health and stability of the family. These services are available at no cost to residents of Baker, Clay, Duval, St. Johns and Nassau counties through appointments at the child's school or other community locations. Click to learn more about Family Link and the 5 Ways to Strengthen Your Family. All Family Link counseling sessions are confidential. To learn more about services, please call (904) 720-0007.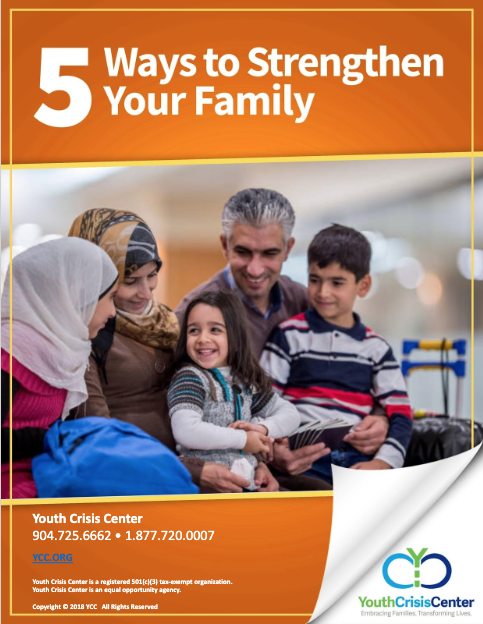 " 5 Ways to Strengthen Your Family"