Every crisis is different, just like each family's experience within it. It is unfortunate that families today face a barrage of experiences that can result in a family crisis: death, divorce, addiction, relocation, mental illness, unemployment…the list goes on. There is no "typical" family crisis, just as there is no "typical" family. A crisis within a family can impact not only the family unit but also affect each member uniquely.
Heightened family tensions can cause family members to experience a variety of psychological issues, such as hostile behavior, difficulty thinking clearly, feelings of numbness or hopelessness, impulsive behavior, dwelling on meaningless activities, or low self-esteem. A family crisis disturbs the normal functioning of everyone in the family and requires a change in response to the stressor.
Elements of a Family Crisis
Even the happiest families can experience a crisis. Ideally, family members will always support one another in times of need. However, living up to this expectation isn't always the reality, whether because of long work hours, conflicting schedules or personal issues. There are four elements that can lead to a family crisis, and when two or more of the elements are present, a family is likely to move into a state of crisis:
Experiencing a stressful situation: This can be anything that causes tensions to grow within the family, such as divorce, death, unplanned pregnancy, incarceration, or even a child protective services investigation.
Inability to cope: When a family is having a hard time accepting or dealing with the crisis at hand, a breakdown starts to occur in the family dynamic. Family members may blame each other, become argumentative, feel overwhelmed or hopeless, or stop communicating altogether.
Chronic difficulty meeting basic responsibilities: This could be anything from a parent not being present in their child's everyday life to being unable to provide basic needs to survive, like food, shelter or protection.
No sources of support: Families that don't support one another are at high risk of experiencing a crisis. When they are unable to rely on other family members, friends or neighbors, they are isolating themselves and eliminating support systems.
Stages of a Family Crisis
A family crisis has three stages: onset, disorganization and reorganization. Whether it's something that happens unexpectedly, an underlying issue that has been waiting to surface, or the inability to adapt to change, each crisis will be characterized by these three stages.  
Onset: The family starts to realize that there is a crisis. Family members may present denial or disbelief about the situation. In this stage, it's important for the family to identify the problem and accept that they need to make a change.
Disorganization: This is a family's lowest point. Chaos from the crisis is in full effect, causing family members to feel helpless, anxious, agitated and vulnerable. Tensions are rising and family members may turn to drugs or alcohol to cope.
Reorganization: This is when the family takes action. They have identified the problem, accepted the need to make a change, and are working to overcome the crisis.
When to Get Help
Remember, a crisis doesn't always have to have a negative outcome; it can be a time for the family to build stronger bonds, work on their problem-solving skills, or develop better coping methods. If the family is unable to come to terms with a crisis, or needs help resolving their issues, they should seek assistance. Family therapy can help a family understand each other better, prioritize communication, manage expectations, and address individual issues. There's no shame in getting help. When all is said and done, you'll be thankful you took action to rebuild your family.
YCC's Family Link program provides professional and compassionate short-term, outpatient counseling services to families with children ages 6-17 who are experiencing concerns that could disrupt the health and stability of the family. These services are available at no cost to residents of Baker, Clay, Duval, St. Johns and Nassau counties through appointments at the child's school or other community locations. Click to learn more about Family Link and the 5 Ways to Strengthen Your Family. All Family Link counseling sessions are confidential. To learn more about services, please call (904) 725-6662.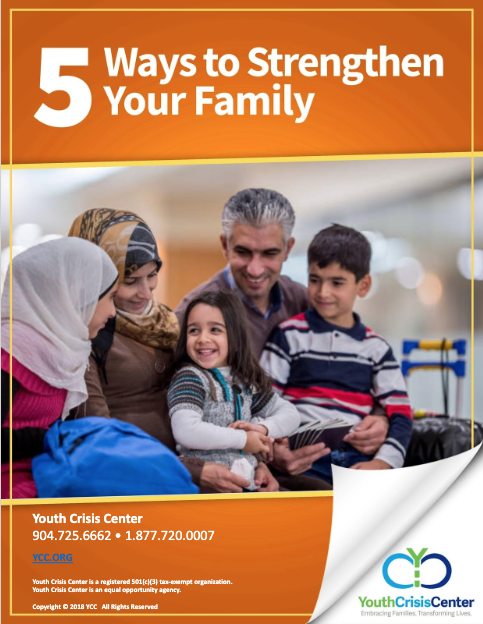 5 Ways to Strengthen Your Family