There are more options for things to do as a family are starting to open up with the news of some of our local beaches opening up along with parts of our country. For some, cabin-fever is the only thing they are feeling as many people in our country have been told to stay at home and to practice social distancing. Social distancing has led to strict rules at our grocery stores, favorite shopping areas, and even to our parks. Staying inside has become the "norm" for the majority of us and we could still see certain restrictions throughout the next couple of weeks.
Keeping kids entertained
Family Link Lead Therapist Jazmin Jerome says it is important to keep kids busy to prevent the feeling of anxiety, depression, and other negative feelings. She says that can sometimes be a result of feeling isolated. Jerome is a Registered Clinical Social Work Intern with the Youth Crisis Center. She recommends helping your child find new hobbies to engage in, increase family time, and encourage a healthy amount of electronic communication with peers. She also says there are a number of things you can do as a family to stay entertained such as watching movies or even holding a marathon of some sort. You could learn a new recipe as a family to make something new and enjoy it during dinner as a family. Jerome recommends eating together at least three times a week.
Keeping yourself occupied
For adults adjusting to the current pandemic, Jerome says it is important to participate in self-care frequently. She says anything from taking a few moments to relax, to taking a hot shower are just a few things that can be done. If you have children and you're able to work, you are probably having to help home-school kids while ensuring your daily tasks get completed. According to Jerome, being able to keep a healthy balance between work, school and personal life is key to keeping your sanity during these questionable times. She recommends having structure for both yourself and the kids so you can have some sort of routine similar to what life was like months ago.
Youth Crisis Center's Family Link Program
YCC's Family Link program provides professional and compassionate short-term, outpatient counseling services to families with children ages 6-17 who are experiencing concerns that could disrupt the health and stability of the family. These services are available at no cost to residents of Baker, Clay, Duval, St. Johns and Nassau counties through appointments at the child's school or other community locations. Click to learn more about Family Link and the 5 Ways to Strengthen Your Family.
All Family Link counseling sessions are confidential. To learn more about services, please call (904) 725-6662.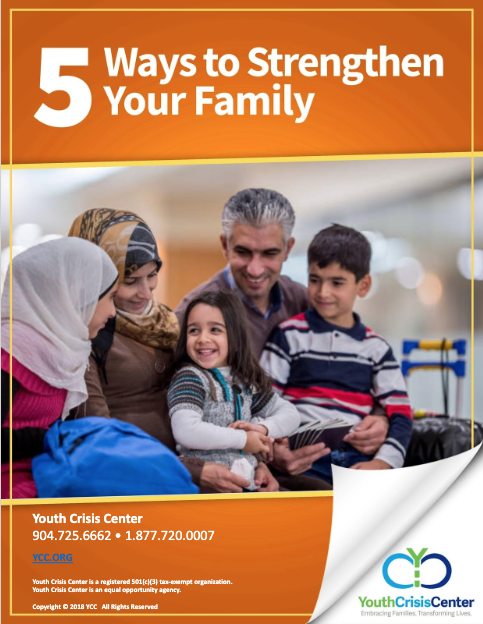 5 Ways to Strengthen Your Family