There could be a new kind of excitement in the air for kids when they get to be included in the holiday festivities with their families, for the first time. These festivities can vary from dinner parties, social outings, or travel – it all depends on the family. These festivities can be a positive experience but it could also disrupt your child's routines.
Sadie Schultheis, an Outpatient Therapist with the Youth Crisis Center recommends three topics for parents to consider when it comes to getting your child ready for the holidays.
Expectations: 
"The expectations placed upon children during this holiday season are often fairly unreasonable," Schultheis says as she suggested going over table manners before holiday dinners. It is also recommended that parents try to understand that in some cases, their child's ability to sit still is limited as well as their attention span.
Schultheis suggests bringing coloring books, card games, dolls/action figures to keep your child busy and to promote desired behaviors. It is also recommended that you talk with your kids about bedtimes to prepare for late-night parties and to serve as a reminder that kids still need plenty of hours to sleep. 
Routines: 
It's no secret that the holiday season can be busier than normal for families. For children who experience anxiety, routines make them feel safe. This can go back to expectations but in a different sense. Rather than setting expectations on manners and how to act at the table, parents can explain to their kids what to expect and how it will affect their daily routine. According to Schultheis, having a routine can help reduce added stress due to additional family gatherings, holiday parties, and travel.
Acts of Kindness: 
The holiday season means a lot of different things to different people, but it is often associated with bringing families together from near and far. Schultheis says around this time of the year it is important to remind your child that this is also a time for giving and not only receiving. She recommends encouraging your kids to go through their toy boxes and donate the ones they no longer play with. There are also a handful of soup kitchens or animal shelters looking for donations and/or volunteers. Another activity Schultheis recommends is having the kids participate in caroling or sending holiday cards to servicemen and women.
YCC's Family Link Program 
The Youth Crisis Center was founded in 1974 as Florida's first run-away program and has grown to be one of the largest and best-known providers of services for youth and families. Nationally recognized as setting a standard in youth services, YCC has been ranked as one of the top five programs in the United States by the Youth Policy Institute in Washington DC. Throughout the past 45 years, YCC has helped thousands of youth and their families overcome adversity and build stronger relationships. 
One program, in particular, YCC's Family Link, provides professional and compassionate short-term, outpatient counseling services to families with children ages 6-17 who are experiencing concerns that could disrupt the health and stability of the family.
To learn more about Family Link services, click here or call (904) 725-6662. All Family Link counseling sessions are confidential.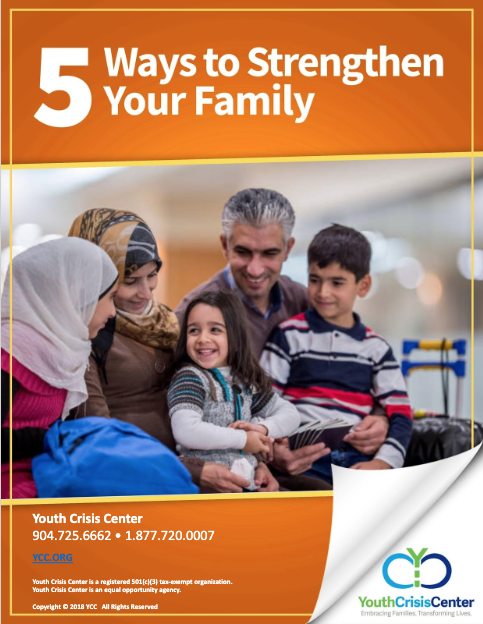 5 Ways to Strengthen Your Family