It's a proverb you have probably heard once or twice in your life, "birds of a feather flock together." It means those who have the same interests or like the same things will usually be found together. Everybody has their own flock whether they're extroverted and enjoy going out on Friday nights for karaoke or staying in and reading a book. At one point in your life, you have probably felt pressure to do something a certain way or felt the need to try to fit in with a group of people. With the rise of social media, kids and teens may feel or experience this pressure even more than those who were the same age about 10 years ago.
As parents, your main job is to protect your kids. You want to help them be their best selves and sometimes who they spend their free time with plays a role in that. No parent wishes for their child to get mixed up in the wrong crowd. If a child feels like their parents or guardians are strict when it comes to who they hang out with – there's probably a reason for that. Family Link Therapist Jazmin Jerome has several pieces of advice for kids who find themselves constantly being told to avoid a certain group of people.
Be You
Oscar Wilde once said, "Be yourself; everyone else is taken." As cliché as it may sound, it's true. Being unique is what makes someone stand out. Jerome says if you have to change who you are to fit in with a certain crowd that is a sign of possibly getting involved with the wrong crowd. If a group cannot accept you for who you are then there shouldn't be much of an incentive to try to fit in with that particular group who doesn't accept you as you are.
Communicate Your Needs
According to Jerome, Often times kids and even adults are drawn to find that they are missing.
"Find someone you can trust and talk to about what is missing in your life so that you don't have to feel drawn to the wrong crowd."
Jerome also suggests trying to stick to your values. That means honoring your parents' or guardian's wishes and never forgetting how you were raised.
Youth Crisis Center's Family Link Program
The Youth Crisis Center was founded in 1974 as Florida's first run-away program and has grown to be one of the largest and best-known providers of services for youth and families. Nationally recognized as setting a standard in youth services, YCC has been ranked as one of the top five programs in the United States by the Youth Policy Institute in Washington DC. Throughout the past 45 years, YCC has helped thousands of youth and their families overcome adversity and build stronger relationships. 
YCC's Family Link program provides professional and compassionate short-term, outpatient counseling services to families with children ages 6-17 who are experiencing concerns that could disrupt the health and stability of the family. These services are available at no cost to residents of Baker, Clay, Duval, St. Johns and Nassau counties through appointments at the child's school or other community locations. Click to learn more about Family Link and the 5 Ways to Strengthen Your Family. All Family Link counseling sessions are confidential. To learn more about services, please call (904) 725-6662.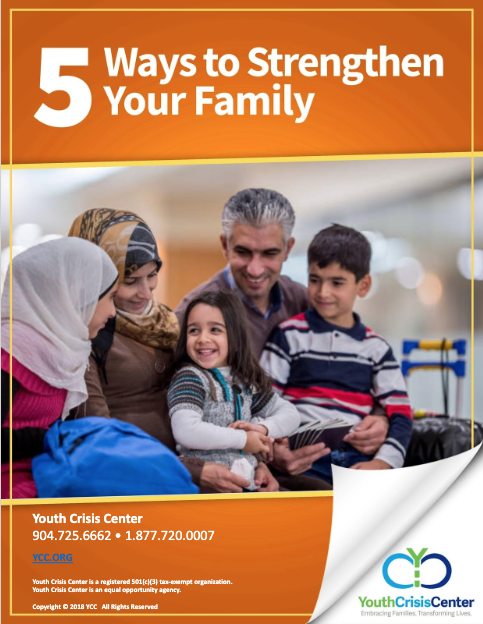 5 Ways to Strengthen Your Family