There's no universal way of showing love. People show love and affection in different ways. Plenty of people express their feelings through hugs and kisses, but that kind of physical affection could be difficult for some. Others may struggle with giving and receiving compliments. The same goes for families. While adults may be used to showing a type of affection their child may not be as receiving of that type of affection. The parent could have also been like that as a child and now struggles with showing affection now that they have their kids of their own.
Be Present 
Lonnie Erskine, a Mental Health Counselor Intern and Family Link Therapist with the Youth Crisis Center says being present is a must. Important conversations while at the table or just sitting around can fall through the cracks if everyone or just one person is on the phone.   
"Children just want to know that you're present."
Erksine recommends asking your child about their day and starting a conversation with them. She wants you to ask your kids how they're doing and also give them positive affirmation. According to Erksine, this can be very beneficial to the parent-child relationship as it shows the kid you are their biggest cheerleader.
Saying 'I love you'
Those three little words can hold so much weight. Erskine says it's important to constantly remind your kids how much you love them. If you struggle to find the right words to show your loved one how much you care, you could benefit from learning about the "5 Love Languages."
Youth Crisis Center's Family Link Program
YCC's Family Link program provides professional and compassionate short-term, outpatient counseling services to families with children ages 6-17 who are experiencing concerns that could disrupt the health and stability of the family. These services are available at no cost to residents of Baker, Clay, Duval, St. Johns and Nassau counties through appointments at the child's school or other community locations. Click to learn more about Family Link and the 5 Ways to Strengthen Your Family. All Family Link counseling sessions are confidential. To learn more about services, please call (904) 725-6662.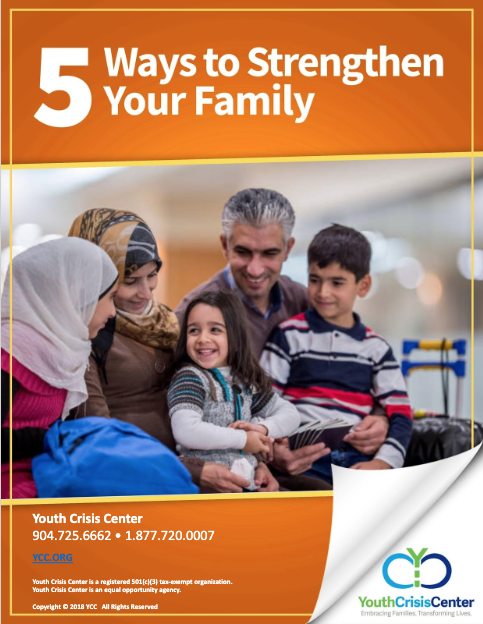 5 Ways to Strengthen Your Family